In a hangout session any ATP fan would want to sit in on, Nick Kyrgios, John Isner, Kyle Edmund and Grigor Dimitrov played a game of tennis-themed Cards Against Humanity, and it resulted in an amazing video.
In it, Dimitrov served as the judge for the Apples to Apples-style game. He would present a topic card (For example: Play is suspended due to ________), and the other players would select a card from their own decks to try to come up with the funniest response. 
Kyrgios won with first round with, "Play is suspended due to Steve Johnson's moustache."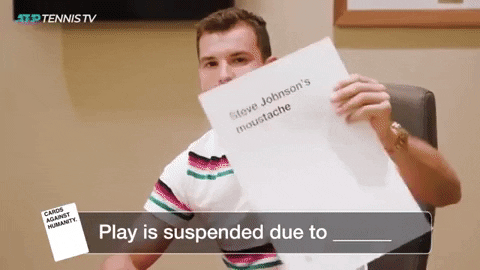 Isner then got on the scoreboard next with a salute to his Indian Wells doubles partner: "After a big victory I like to celebrate with a candlelight dinner with Sam Querrey."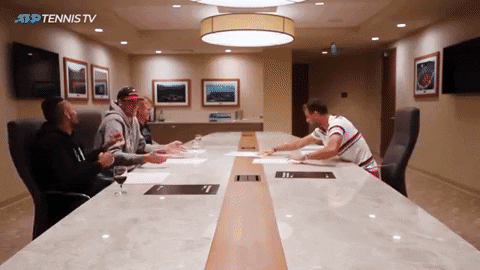 "I think I've had one before, actually," Isner said after being awarded the point. 
And Edmund scored third with: "I don't need trophies, fame, or prize money. All I really want is the flowing golden locks of Stefanos Tsitsipas."
Kyrgios then won the remaining two rounds, his answers being ... 
"I just came from the locker room where everyone was talking about Feliciano Lopez riding a horse."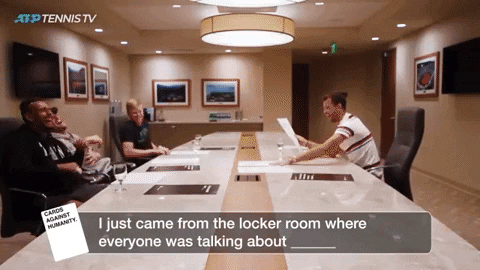 ("It's elegant," Kyrgios said.")
And "I wake up in the middle of the night thinking about NextGen players."
Kyrgios made early exits from the BNP Paribas Open in both singles and doubles, but, if it's any consolation, he won Cards Against Humanity, 3-1-1.