Also look who I bumped into ???????? pic.twitter.com/O0HBu1lpeP

— NaomiOsaka大坂なおみ (@Naomi_Osaka_) September 10, 2018
The US Open only just ended on Sunday, but champions Naomi Osaka and Novak Djokovic have already taken their trophies on the talk-show tour—first to the TODAY show and, for Djokovic, Live with Kelly and Ryan. 
"I've never been on a talk show before, so I'm very happy to be here," Osaka told noted tennis fan Savannah Guthrie.
Osaka also did her first champion's photoshoot at the top of the Empire State Building, though the backdrop was ruined by the rain.
Taking a few ???? w/trophy. Thank you @COMMEGARCONS and @DSMNY for the amazing dress and to @adrianjoffe and Rei Kawakubo for the support ❤️ pic.twitter.com/VwEAPGp4TF

— NaomiOsaka大坂なおみ (@Naomi_Osaka_) September 9, 2018
Djokovic, meanwhile, having won 14 Slams, felt perfectly at home.
He even flossed for the audience ...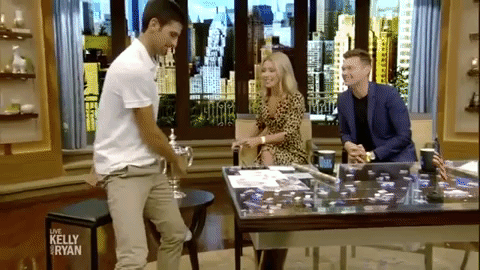 And handed out doughnuts at the subway station.
"You're known for a different kind of serve," Al Roker said cringe-inducingly.
When the topic of the uncomfortable women's trophy ceremony came up, Osaka said, "The ending wasn't how people wanted it to be. I know that, in my dreams, I won, like, in a very tough, competitive match. So, I don't know, I just felt very emotional. And I felt like I had to apologize."
Djokovic also stopped by after his victory to talk to Tennis Channel's Jon Wertheim:
Having won the last two Grand Slams, Djokovic is now third in the ATP rankings and second in the Race to London. Osaka entered the Top 10 for the first time on Monday, jumping all the way from No. 19 to No. 7. She's also now fourth in the Race to Singapore.