With the World Cup continuing to be a sideshow at Wimbledon, some of the biggest names in tennis took a "Wimbledon, World Cup or Whatever" quiz for the BBC, and it proved to be pretty tricky—even for the top tennis players/soccer fans. 
In Round 1, contestants had to determine whether a term was from tennis, soccer or neither. One of the phrases was "parking the bus," a strategy of playing extremely defensively, allegedly used by Chelsea F.C. This was an easy one for Dominic Thiem.
"As a Chelsea fan, I know it. It's football," he said. 
At first, Rafael Nadal couldn't figure it out in English, but it turned out he knew the Spanish equivalent: "poner el autobús."
For Round 2, the players guessed which two tennis or soccer players' faces were combined to make one funny mashup picture. The most amusing was the mixing of Garbine Muguruza and Lionel Messi: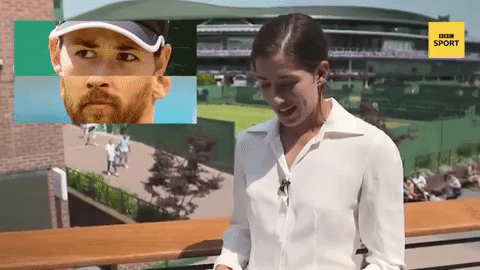 There was also one of Novak Djokovic and Messi's biggest rival, Cristiano Ronaldo: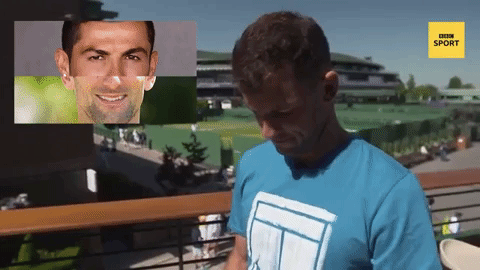 The English national team beat Sweden 2-0 on Saturday to advance to the semifinals for the first time since 1990, a delight to both diehard England fans and visitors to England, like Serena Williams. 
I've spent a lot of summer weekends in London in my life but something feels different about this one! ????????????

— Serena Williams (@serenawilliams) July 7, 2018
Good morning all! FOOTBALL IS COMING HOME ⚽️????????????????

— Heather Watson (@HeatherWatson92) July 7, 2018
Yaaaassss!!!! #ItsComingHome ⚽️ ????

— Johanna Konta (@JohannaKonta) July 7, 2018
Kyle Edmund, who was the last remaining English player in singles, lost to Novak Djokovic in the third round.  
---
Strokes of Genius is a world-class documentary capturing the historic 13-year rivalry between tennis icons Roger Federer and Rafael Nadal. It is timed for release as the anticipation crests with Roger as returning champion, 10 years after their famed 2008 Wimbledon championship – an epic match so close and so reflective of their competitive balance that, in the end, the true winner was the sport itself.