Helping the All England Lawn Tennis and Croquet Club live up to its name, the stars of Wimbledon tried their hand at croquet, and quite a few of them showed some potential.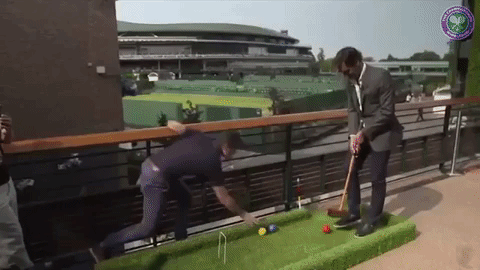 All of the members of men's tennis' "Big Four" (Roger Federer, Rafael Nadal, Novak Djokovic and Andy Murray) were there, though Federer's skills seemed to be the best. 
"This is gonna give me a lot of confidence for Wimbledon," Federer said. 
Andy Murray takes on the croquet challenge. Bit better with a racket than a mallet pic.twitter.com/UtMpKXbcug

— Eleanor Crooks (@EleanorcrooksPA) June 30, 2018
On the other end of the spectrum, Novak Djokovic may or may not have tried to cheat: Kyle Edmund, meanwhile, brought the most competitive fire: 
And Juan Martin del Potro served the most style, wearing his croquet cap backward: 
Federer, Djokovic and Nadal have been mostly immune to the chaos that's struck Wimbledon in the first two rounds; they've all survived so far. Del Potro and Edmund are also safely into the third round. 
---
Strokes of Genius is a world-class documentary capturing the historic 13-year rivalry between tennis icons Roger Federer and Rafael Nadal. It is timed for release as the anticipation crests with Roger as returning champion, 10 years after their famed 2008 Wimbledon championship – an epic match so close and so reflective of their competitive balance that, in the end, the true winner was the sport itself.