Dominic Thiem, in addition to being one of the few serious challengers to Rafael Nadal on clay, is sneakily one of the flashiest players on tour. 
He's shown this both in his play at the French Open this week and in his "Frame Game" challenge for the ATP. 
The objective of the Frame Game is to bounce to ball off the frame of your racquet as many times as possible without dropping it, as demonstrated by Hyeon Chung:
But Thiem took it to the next level, flipping his racquet over twice: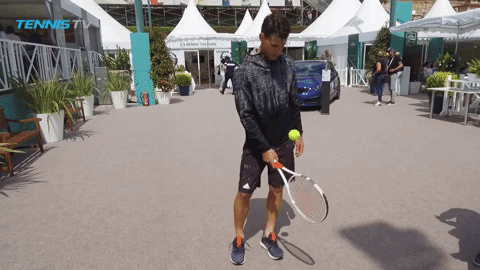 And kicking the ball soccer style: With the added tricks, he notched an impressive 73 bounces. 
In the second round of Roland Garros, Thiem beat touted teenager Stefanos Tsitsipas in a battle of one-handed backhands.
Thiem (????Eurosport) pic.twitter.com/WeEoXU7vex

— doublefault28 (@doublefault28) May 30, 2018
He hit 45 winners to defeat Tsitsipas 6-2, 2-6, 6-4, 6-4 in a match that had to be split over two days of play.  
Thiem ( info - @El_Diegote ) (????Eurosport) pic.twitter.com/DqZ9YeYl1c

— doublefault28 (@doublefault28) May 30, 2018
Though the Austrian has the honor of being responsible for both of Nadal's clay-court losses in the past two seasons, he'll likely have to get past Madrid champion Alexander Zverev in the quarterfinals first. He won't have a shot at Nadal until the championship match. 
The 24-year-old's next match, in the third round, will be against No. 96-ranked Matteo Berrettini. Thiem is currently No. 8 in the ATP rankings, but No. 3 on the Frame Game leaderboard, behind Joao Sousa and Pablo Carreno Busta. 
---
—Tennis Channel Plus features up to 10 courts of live action from Roland Garros beginning Sunday, May 27 at 5:00am ET.
—Catch up and watch all your favorite stars anytime on-demand with Tennis Channel Plus.